NEWS UPDATE – FRIDAY 9th FEBRUARY 2018

CONFIRMED 2018 TOUR DATES NOW ADDED.

Now that 2018 is well underway we have now added all of the confirmed dates for the entire year to our TOUR DATES page.

More will be added as they are booked in and it is inevitable that some changes will occur as we work our way through the year, this always happens due to booking so far in advance, so please do keep checking the tour dates for changes and additional shows added.

See you on the road.


NEWS UPDATE – SUNDAY 7TH JANUARY 2018

HOLIDAY TIME

We are now on holiday until Friday 26 January 2018. All enquiries during this time can be made through our management who will still be working hard. You can find all of their details on the contact us page of this website.

Our merchandise shop on this site will remain open and you can still place orders, but please note that no orders will be dispatched now until Monday 29 January 2018.

2017 turned out to be an amazing year in so many ways and we have just completed an awesome run of Xmas and New Year shows.

Some more announcements coming soon as we have been secretly very busy in the studio as well as on the road……….way toooooo busy!!! In fact, we need a holiday!!

We promise to come back refreshed and ready to do it all over again but as always we aim for bigger & better.

See ya later. A & M


NEWS UPDATE – MONDAY 18TH DECEMBER 2017

HAPPY CHRISTMAS EVERYONE – A GIFT FROM US TO YOU

What an amazing year it's been and none of the things we have achieved this year would have been possible without all of your help and support. We wanted to get every single one of you a Christmas Prezzie but short of re-mortgaging our house and tracking you all down that would be impossible, but where there's a will there's a way or so they say…………….

We decided at the end of November to put a couple of days aside to go into the studio to record a song to give you all as an MP3 download through our website as our way of saying thanks and have a great Christmas.

We haven't had much time to add any new covers to our set over the past crazy 6 months, but this song was one that was repeatedly asked for time and time again. It has been one of the biggest songs of the year and is currently number one in a zillion countries, so here's our version of 'Perfect'…….Thank you for a Perfect year!! Happy Christmas with love from Ant & Matt xx


PLEASE FOLLOW THE INSTRUCTIONS
BELOW TO DOWNLOAD

YOU WILL NOT BE CHARGED FOR THIS DOWNLOAD




IE/Edge users should right click on the picture
and choose "save target as"

Chrome users should right click on the picture
and choose "save link as"

Firefox users should right click on the picture and
choose "save link as"

Mobile users need only to click on the picture







NEWS UPDATE – TUESDAY 7TH NOVEMBER 2017

RESCUE ROOMS TICKETS HAVE NOW SOLD OUT

We are hugely proud to announce that tickets for our show at Nottingham's Rescue Rooms on Sat 10 March 2018 have now completely SOLD OUT!! We have been told that we are part of a small handful of Notts artistes to have sold out this venue since it opened in 2003!!! Once again, you have not let us down, and we will do you all proud on the night and give you our biggest show to date.

THIS EVENT IS NOW SOLD OUT

We will be creating an event soon on our Facebook page for this night and it will give you all the info you will need to make the most out of the gig and out of your time in Nottingham .

Thank you, thank you, thank you……..we are buzzing that this show has sold out so quickly!!! See you out there soon. A&M xx


NEWS UPDATE – FRIDAY 29th SEPTEMBER 2017

NOTTINGHAM RESCUE ROOMS TICKETS ARE NOW ON SALE

BROTHERHOOD BRING THE FULL BAND TO HEADLINE NOTTINGHAM 'S RESCUE ROOMS

Rescue Room tickets are now on sale and the gig is open to anyone 14+.

All of the links below are official ticket sites and each one has been allocated a certain amount of tickets, so if one place is sold out, please try another.

www.alttickets.com/brotherhood-tickets

www.seetickets.com/event/brotherhood/rescue-rooms/1151916

www.ticketweb.co.uk/event/brotherhood-tickets/289689

www.gigantic.com/brotherhood-tickets

SEE TICKETS TELEPHONE BOOKING LINE: 0871 220 0260

There are also some great cheap saver rate rooms available in some of the Nottingham City Centre hotels that are near the venue, so why not make a night of it, or even a weekend, you will be smack bang in the centre of Nottingham and surrounded by all the great bars, restaurants and attractions the city has to offer.
The best value Hotels with some great prices at the moment are Travelodge & Premier Inn, but we have included some extra ones too, but feel free to search any hotel or B & B, as long as it's in the City Centre you are going to be near the venue.

TRAVELODGE – Nottingham Central, Maid Marian Way, NG1 6AJ : www.travelodge.co.uk

PREMIER INN – Nottingham City Centre, Chapel Bar , NG1 6JS : www.premierinn.com

IBIS – 16 Fletchergate, Nottingham , NG21 2FS : www.ibis.com/Nottingham

JURYS INN - Station Street , Nottingham , NG2 3BJ : www.jurysinn.com

PARK PLAZA – Maid Marian Way , Nottingham , NG1 6GD : www.parkplaza.com/nottingham

CROWNE PLAZA - Wollaton Street , Nottingham , NG1 5RH : www.crowneplaza.com

The Killers, Kaiser Chiefs, Amy Winehouse, Adam Ant, James Blunt, Jake Bugg, The Kooks, Travis, Rag N Bone Man, Jess Glyne, London Grammer, Ellie Goulding & Mumford & Sons are just a few of the 100's of big names that have HEADLINED Nottingham's RESCUE ROOMS and it is with a huge amount of pride that we can now announce that BROTHERHOOD are going to be HEADLINING this iconic venue and following in the footsteps of many of the artistes they have looked up to over the years.

After a hugely successful 2017, performing at ROCK CITY and opening SPLENDOUR FESTIVAL, BROTHERHOOD will bring the band together again to perform a full HEADLINE set at the RESCUE ROOMS on SATURDAY 10TH MARCH 2018. They will be performing some of their own songs from the hugely popular debut album 'Occupational Hazard' and will also throw in some classic covers delivered in the way that only BROTHERHOOD know how!!

BROTHERHOOD have handpicked the opening acts to make sure the whole night is an amazing experience for everyone attending and support comes from 5th Order & Kelsey Shaw.

5th ORDER are 3 piece, post-punk/alternative band from Mansfield, Nottinghamshire , UK . The band formed in October 2016 and began to write and record their debut album 'Motion Owl'. Joey Slack and the two brothers, Chris and David Berridge have worked together for many years on several projects – but nothing like this one. Their music is exciting & unique, it nods acknowledgement to the past without taking from it. For more details: www.5thorder.net

With just her guitar, KELSEY SHAW stunned the crowd and judges on ROCK CITY 'S MAIN STAGE in 'The Future Sound Of Nottingham 2017 Final'. After finishing in 3rd place she impressed Ant & Matt so much that they asked her to be part of the RESCUE ROOMS show. Kelsey has a voice that's powerful, haunting, delicate and resonant. Paired with the beautiful melodies she's crafted, it's something really special. For more details: www.facebook.com/kelsey.shaw.370

Do not delay, get your tickets TODAY!!!! This is gonna be an EPIC one!!!


NEWS UPDATE – FRIDAY 25TH AUGUST 2017.

Our debut original album Occupational Hazard is out today in all the major online stores, whatever platform you use if you search Brotherhood Occupational Hazard you should find us. It is available on all the big streaming sites too.

The direct links for you to download the album from Amazon, Google or iTUNES are at the top of this page, just click the button to be redirected to those sites to get your MP3 copy. Don't forget it comes with a brand new original bonus track song 'Waste Of Time'.


NEWS UPDATE – MONDAY 7TH AUGUST 2017

We now have Instagram – Click the link thumbnail at the top of this page and give us a follow.

We also now have our own official You Tube channel and our first upload is the full promo video for our first single 'Winner'. Again, click the link thumbnail at the top of this page to view our channel…….please subscribe, and let everyone know to hit our channel and subscribe.

Happy viewing!!


NEWS UPDATE – MONDAY 31ST JULY 2017.

Our slot at this years SPLENDOUR FESTIVAL opening the MAIN STAGE for KAISER CHIEFS, BUSTED & TONY HADLEY could not have gone any better, we had an amazing crowd and it was SPLENDOUR FESTIVALS biggest attendance to date with 25,000 tickets sold!!!

So, as the dust starts to settle on what has been a turbulent and triumphant past 6 months, we have to start to look ahead and plan what's next.

We have a few plans and some very cool things in the pipeline, which we will be announcing very soon, but to pave the way for these things to happen some things have to be cast aside.

On the live gigging front, nothing is changing, as always this is our job, our livelihood, our passion and we will maintain the same busy touring schedule as we always have.

On the recording side of things however, some things have to be sacrificed.

We did originally intend 'THE CHOSEN ONE' to be a trilogy, and the second part was scheduled for release this Halloween. This is now not going to happen. Our schedule with all the things that happened around ROCK CITY & SPLENDOUR FESTIVAL just didn't allow us the time to get into the recording studio to make a start on the project and we also feel that with all that's happened and the forthcoming release of our original album 'Occupational Hazard' on iTunes, Amazon, Spotify and all major online stores on 25th August 2017, now is not the time to be recording and promoting a new covers album.

We are unsure as yet whether we will continue to record THE CHOSEN TRILOGY at a later date, or various other projects may take over and it may have to be permanently shelved.

With this in mind, there cannot be a launch party for an album that is not coming out so our Halloween Show on Tues 31 October 2017 at Forest Town Arena will now not be going ahead as planned.

We are, however, in talks for our biggest Headline show to date at a really cool venue which again has seen many a huge name perform there over the years, and we hope to have some news on that for you very, very soon……….such a tease!!

We would like to thank our band brothers for all the hard work they put in, helping us make our Splendour set as awesome as it was, Kev Beal, Graham Alexander & Matt Walters, you all gave a top class performance……..we can't leave it like that can we?????

More soon!! xx

NEWS UPDATE – FRIDAY 21st JULY 2017

BROTHERHOOD SINGLE 'WINNER' AVAILABLE TO DOWNLOAD & STREAM NOW!!!

Our first official single release is out now. Winner, along with an acoustic version B side is released today through all the major online stores & streaming sites. We need as many of you to download / stream / leave reviews and share the love. Tell your friends & family, be our word of mouth, and help us get the ball rolling to raise our profile another level.

To purchase and download the single, below are the 3 biggest internet stores you can get it from (click the banners to be directed to the stores)




Also, it is available to stream if you have streaming accounts and below are the 3 biggest internet sites that you can listen to it on and add to your playlists





The full album 'Occupational Hazard' including a never before released bonus track 'WASTE OF TIME' will be released on the same platforms on Friday 25th August 2017. Anybody wanting a physical copy (that's a CD with a full 20 page lyric booklet) of the album 'Occupational Hazard' then the only place to get this is through our Merchandise page on this website or at a live show…..the CD version doesn't contain the bonus track!!

Tomorrow we open Splendour Festivals Main Stage for KAISER CHIEFS, BUSTED & TONY HADLEY, we are going to be doing lots of radio, TV, press during the day also and as soon as we know what channels you can watch/listen on we will let you know through our social media……part 2 of our DEAN JACKSON BBC Interview will be broadcast live from Splendour at 9pm tomorrow night just as the KAISER CHIEFS hit the stage, you can listen to this LIVE on BBC RADIO Nottingham / Derby / Lincoln & Leicester.

We have so many more announcements to make and so many more things we have to do, it's finding the time to get everything done that needs doing at the moment…..exciting and extremely busy times at the moment, but we will do our best to keep everybody updated.

Don't forget….. #Everybodysawinner…..spread the word.



NEWS UPDATE – 26TH JUNE 2017.

BROTHERHOOD SIGN DEAL TO DISTRIBUTION COMPANY.

WINNER TO BE RELEASED AS A SINGLE ON ALL MAJOR ONLINE PLATFORMS.

We always said it would be the single, well now it is going to be. Winner will be released as a single on all the major online platforms (I Tunes, Amazon etc) and you will even be able to stream it on all major streaming sites (Spotify etc).

It will be released on Friday 21st July 2017, which is the day before our gig with Kaiser Chiefs & Busted at Splendour Festival.

It will also have a PREVIOUSLY UNRELEASED acoustic version of Winner as the B Side.

All links to where you guys can download both versions will be posted here and through our social media closer to the release date, that's when we need you guys again to download, stream, spread the word, leave a review, basically anything you can do to help us launch our first official single.



NEWS UPDATE – 11TH JUNE 2017.

BROTHERHOOD WILL PLAY SPLENDOUR FESTIVAL AS A FULL BAND.

We are excited to announce that our Splendour Festival appearance on Saturday 22nd July will be as a 5 piece band. We have adopted 3 new brothers to make the band line-up with us, allow us to introduce them to you: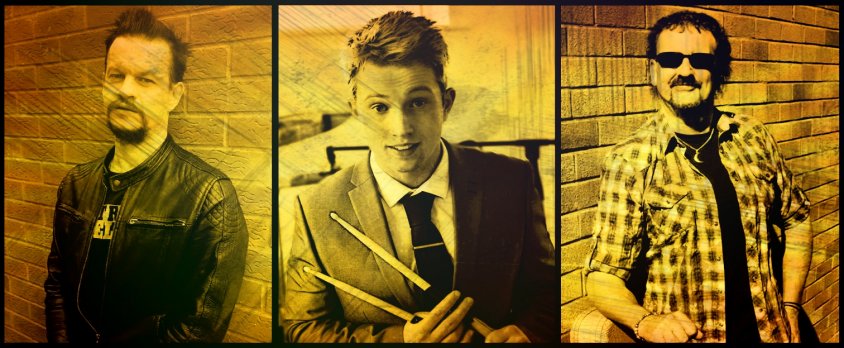 From L to R: Graham Alexander, Bass & Backing Vocals: Matt Walters, Drums: Kev Beal, Guitars & Backing Vocals

Here is a short biog from each of the band members and links to find out more about them:


---


GRAHAM ALEXANDER, Bass Guitar & Backing Vocals.

Graham has known and worked with both Ant and Matt long before Brotherhood started, Graham has always been involved in one way or another with them. He really is their 'Brother from another Mother'

Having been Ant (and Kev's) bass player in their original heavy rock band 'Saigon Kiss' in the early 1990's, Graham has continued to play in many acts both on the club circuit, cruises, and the tribute scene which has seen him perform all over the world including Las Vegas, USA, India, Croatia, Bahrain and Abu Dhabi to name but a few!

Grahams high energy stage presence and powerful bass style will give Brotherhood's sound even more drive and it is his immense pleasure to be of service!

Graham can be found and followed on Facebook: www.facebook.com/Gee.33


MATT WALTERS, Drums.

Matt started playing on the pub & club scene when he was 17 with Ready Steady 60.

Rock-steady and intuitive, Matt started drumming from an early age in church/gospel, school and show bands. While learning to play, Matt was heavily influenced by the rock grooves from bands such as Led Zeppelin, AC/DC and Nirvana, however you will often hear jazz and funk cleverly integrated into his playing style.

Currently, Matt plays in the band 'Part-E' with his brother Tom and their two friends Katie and Chloe performing hits from the 60s through to modern day.

You can find them on Facebook: www.facebook.com/parteband or on www.parteband.com


KEV BEAL, Electric & Acoustic Guitars & Backing Vocals.

Kev is a Guitarist, Singer, Songwriter with over 3000 live performances to date. He has done all kinds of shows from Holiday Camps to Festivals such as Pentrich Rock & Blues and Americana .

He is currently working the Pub & Club circuit in the Glam Rock tribute 'Near Az Glam-It!' and as the solo artist 'Max D'Lux'.

Kev has written many songs and was delighted when Brotherhood chose to co-write with him 'A Love That Should Be' on their current debut original album 'Occupational Hazard'

Kev's association with Ant & Matt goes back way before Brotherhood began, he has performed with them at past concerts when they have required a session guitarist and is ecstatic to be 'The Chosen One' to play live with Brotherhood at Splendour Festival – It is going to be absolutely awesome.

Find out more about Kev on Facebook: www.facebook.com/NearAzGlamIt


---

Brotherhood are currently in rehearsals for Splendour and it is sounding AMAZING!!! You don't want to miss this opportunity to catch most of the songs from 'Occupational Hazard' performed as a full band.

Gates for Splendour will open at 11.30am on Sat 22nd July and Brotherhood will open the MAIN STAGE at 12.30 for what promises to be a memorable 30 minute set.

TICKETS ARE SELLING FAST, you need to book now to avoid missing out on the biggest gig in Nottingham's yearly calendar……..and Brotherhood open it!!!

Get tickets here: www.splendourfestival.com




NEWS UPDATE – WEDS 17TH MAY 2017

BROTHERHOOD ARE CONFIRMED AS MAIN SUPPORT TO THE HOOSIERS

As if getting the coveted opening slot on SPLENDOUR FESTIVAL MAIN STAGE at WOLLATON PARK, NOTTINGHAM on SAT JULY 22nd opening for KAISER CHIEFS, BUSTED & TONY HADLEY wasn't enough, we can now announce that BROTHERHOOD have been confirmed as the MAIN SUPPORT for THE HOOSIERS on THE LAKES FESTIVAL, BURGH LE MARSH, nr SKEGNESS on SATURDAY 8TH JULY.

CLICK HERE TO SEE THE SPLENDOUR FESTIVAL POSTER & LINE UP

CLICK HERE TO SEE THE LAKES FESTIVAL POSTER & LINE UP

If you zip over to the TOUR DATES section, ticket details and links have now been added for SPLENDOUR FESTIVAL. We expect to add ticket details & links for THE LAKES FESTIVAL very soon, so please check back.

There is absolutely no doubt that this is the biggest year of BROTHERHOOD'S career to date, with a hugely successful set to a stunning & deafening audience reaction on ROCK CITY'S MAIN STAGE under our belt, TV, Radio, Newspaper & Magazine Promo being undertaken at every opportunity and our song Lover receiving it's first radio play on BBC Introducing.

There is a lot more promo lined up, and some more videos are heading your way soon. We are working very hard to keep the momentum going and there are going to be lots more announcements and surprises coming your way over the coming weeks and months through our website and/or our social media pages, so make sure you stay tuned into our world and join us on this crazy ride we are on at the moment.

More soon. Keep up!!


NEWS UPDATE – FRIDAY 12TH MAY 2017

BROTHERHOOD TO OPEN THE MAIN STAGE FOR KAISER CHIEFS,
BUSTED & TONY HADLEY AT SPLENDOUR FESTIVAL

Unless you have been under a rock this past week, we are sure you have heard the news that we won Nusic's 'The Future Sound of Nottingham 2017' at Rock City 's Main Hall last Sunday night. This week has been full of all sorts of radio, TV, magazine & newspaper promo and much celebrating. There needs to be a big website update and more announcements made, but we are juggling everything around at the moment because we don't think we have ever been so busy……and that is saying something!!!

Brotherhood play the main stage at Splendour Festival with Kaiser Chiefs, Busted and Spandau Ballet's Tony Hadley on Saturday 22nd July at Nottingham's Wollaton Park and this festival will have THIRTY THOUSAND PEOPLE in attendance!!!

We are going to be releasing a lot more details in the coming days, and some more exciting announcements are on the way, so please bear with us as we work our way through this huge list of things that need doing.

Check back soon.



NEWS UPDATE – MONDAY 1ST MAY 2017

ROCK CITY & SPANKY VAN DYKES : LET'S ALL HAVE A PARTY!!

WE'RE PLAYING ROCK CITY'S MAIN STAGE THIS SUNDAY AND WHATEVER THE OUTCOME, THIS IS AMAZING FOR US, OUR FANS, FRIENDS & FAMILY, SO WE ALL DESERVE A HUGE PARTY!!

The Final of the 'FUTURE SOUND OF NOTTINGHAM 2017' is this Sunday (7th May) at Nottingham's iconic ROCK CITY in the MAIN HALL on the MAIN STAGE. We could get on the same stage as KAISER CHIEFS & BUSTED amongst some other huge names but once again we stress that we cannot do it alone, we need you to come to this show in your droves and go crazy as it is on public reaction as well as judges votes.

There are 6 acts on in total (BROTHERHOOD, HASHTAGOBI, ROE GREEN, THE DANDYLIONS, ONE GIANT CAUSEWAY & KELSEY SHAW) and every single one of them deserves to be there, they are all great, the promoters, and ourselves want to make this an amazing experience for all the acts on, so PLEASE, PLEASE, PLEASE, give all the other acts some respect when they perform too. This SHOULD & deserves to be an amazing experience for every single act that has come this far.

DON'T FORGET: This is a FREE event, NO TICKET NEEDED, it's 14+ only, DOORS OPEN at 6.30pm and the first act is on at 7.00pm precisely, NO RUNNING ORDER WILL BE GIVEN as every act deserves a fair listen and some audience respect, so please get here early and get a great spot down near the front. The CROWD REACTION will be read by a decibel meter at 3 times throughout the night, ONCE AT THE START, ONCE AT THE END, ONCE AT RANDOM, this is when you hear the name BROTHERHOOD you have our kind permission to go APE SHIT!!

The 'WINNER' will be announced on the night and they will then go on to open the MAIN STAGE at the SPLENDOUR festival in Wollaton Park and share the same stage as KAISER CHIEFS & BUSTED.

SPANKY VAN DYKES AFTER PARTY: No matter what the outcome, we're having an after show knees up and 'SPANKY VAN DYKES' have kindly supplied us with a private VIP balcony area for our AFTERSHOW party, you are ALL WELCOME and this is also FREE ENTRY.

It's a stones throw away from ROCK CITY , just make a left as you come out of ROCK CITY and walk 50 yards down the hill and you are at SPANKY VAN DYKES. Just let them know at the bar you're there for the BROTHERHOOD after party and they will point you to the right area. As soon as we're released from ROCK CITY as we may have to do a small amount of PROMO or interviews after the event we will be down to join you all.

We're told the curfew at ROCK CITY is 10pm but usually events like this can finish quite a bit before the curfew so whatever time it finishes, head down to SPANKYS and we will be there as soon as we can. They have great drinks promotions and you can get REAL ALES or some cheeky cocktails or just go for it on the SHOTS…….I'm sure we will be having quite a few with you guys!!!

The after party will go on until MIDNIGHT.

CLICK HERE to see the AFTERPARTY promo flyer.

This is it guys……see you down the front at ROCK CITY , let's all go for it!!!


NEWS UPDATE – THURSDAY 27TH APRIL 2017

BROTHERHOOD ARE ON THE TELE – TONIGHT!!!

Hey guys, this whirlwind of promotion we are currently entangled in takes us to NOTTS TV tonight. We will be on the show NOTTS TONIGHT that goes out live between 5.30 – 6.30pm. We have been informed that we will be interviewed and will also do a live performance of a previously unheard acoustic arrangement of our song Winner at sometime between 6 and 6.30pm tonight (27 April).

This all goes out LIVE on NOTTS TV and you can find the channel if you are in the Notts area on FREEVIEW 7, SKY 117 & VIRGIN 159. It will also be added eventually to the ON DEMAND section of the NOTTS TV website at www.nottstv.com just click to play NOTTS TONIGHT THURSDAY 27TH APRIL 2017 when it is added to the ON DEMAND section of their website.

If you are not in the Notts area and have SKY TV and you do want to tune in live or record it here is how to add NOTTS TV manually into your existing channels………

To add Notts TV to your "Other Channels" section on your Sky+HD Digibox then simply do the following…

· Press the "SERVICES" button on your remote and then keep pressing the "LEFT ARROW" until you see "OPTIONS" highlighted.

· Now press the "DOWN ARROW" on your remote and on the middle menu keep pressing the "LEFT ARROW" until you see "ADD CHANNELS" highlighted.

· Now, press the "DOWN ARROW" again and a few boxes will show up at the bottom which you have to enter details into.

· In the appropriate fields enter the information required. To move through the fields simply press the "UP ARROW" and "DOWN ARROW" keys.

· In the FREQUENCY field enter the 11464

· The next three fields are toggle fields, i.e. you use the "LEFT ARROW" and "RIGHT ARROW" keys to change the values.
Polarisation – H
Symbol Rate – 22000
FEC – 5/6

For Sky Q the procedure is slightly different.

You need to add it to your main box, not through a mini box.

Press the home key on your remote

Scroll down to Settings then press the select button

Scroll down to Manual Tuning

Enter your PIN if requested

The details required are as below

Frequency: 11464
Polarisation: Horizontal
Symbol Rate: 22000(22.0 Mbaud)
FEC: 5/6
Mode: DVB-S, QPSK


Let's not forgot that all this promotion is being done to try and get as many supporters for us as possible through the doors of ROCK CITY on SUNDAY 7TH MAY 2017.

WE NEED YOU ALL THERE.

There is also gonna be the afterparty of all afterparty's and you are all invited to that too……..more details on that to follow soon.

Tune in people #teambrotherhood


NEWS UPDATE – WEDS 12TH APRIL 2017.

BROTHERHOOD WILL PLAY ROCK CITY'S MAIN STAGE ON SUNDAY 7TH MAY 2017.

FREE TICKETS & FREE ENTRY – WE NEED YOU THERE!!

Hey guys, huge thanks and congrats all round, we made Rock City's Main Stage together, and not only that, we finished the public vote in 1st place with the highest number of votes ever received thanks to you.

We are down from 67 initial entries to the last 6 and we all battle it out in the Final in the Main Hall of Rock City on Sunday 7th May.

The winner will be announced on the night and they will then go on to perform at Splendour Festival in Wollaton Park, Nottingham with Kaiser Chiefs, Busted and many other big names on Saturday 22nd July.

WE STILL MASSIVELY NEED YOUR HELP, NOW MORE SO THAN EVER.

How the vote works in the Final is a mixture of public reaction (how loud you cheer & how many there are of you, a decibel reading will be took several times throughout the night to create an audience score) 5 top record industry judges will also be scoring separately.

The audience & judges scores will be combined to create a final score. We cannot stress how important it is for us to cram as many Brotherhood fans and friends into Rock City as possible, so we ask you all to come, bring ya friends & family and go absolutely mental with us!! Anyone over the age of 14 can come, but no under 14's are allowed.

Rock City is bang in the middle of Nottingham City Centre, there are no tickets needed for the Final and it is FREE to get in, so just turn up. Doors open to the public at 6.30pm and the first finalist will be onstage at 7pm prompt, so don't be late. There will be no running order announced so we don't know exactly what time we will be on, but just be there in the mosh pit ready to go nuts when we hit the stage.

There are loads of hotels in Nottingham City Centre just a stones throw from Rock City (Travelodge, Holiday Inn, Britannia) just Google it as there are some really cheap hotel deals, come and make a proper night of it with us.

Win or not on the night, we are still going to have the after party of all after party's and ask anyone that comes down to join us around town for drinks afterwards until the small hours, so if you can and want to party with us make sure you book Monday 8th off!!! If you do have work the next day, we would still love your support in the Final and it will all be over by 10pm(ish) so please still come down to Rock City and give us some much needed support!!!

Click the link below to see the official Facebook event created by Nusic who are the promoters of the event.

CLICK HERE TO READ OFFICIAL EVENT NOTICE

Please come along and help us in one final push, we can only do this TOGETHER…..there's strength in numbers!!

We are also going to be getting quite a lot of publicity over the coming weeks which will include PRESS, RADIO, TV, BBC this will include interviews with us and airplay of our songs, we will try to post on our Social Media pages (Facebook & Twitter) when these are going to be happening so you have a chance of tuning in. We will also be interviewed this coming weekend (Easter weekend) when we are in Skegness on a four day run on Coastal Sounds Radio. We don't have an actual time slot as yet as we have to arrange it around our schedule this weekend, but again we shall post the details on Facebook & Twitter as soon as they are finalised.




NEWS UPDATE – SATURDAY 8TH APRIL 2017

'THE FUTURE SOUND OF NOTTINGHAM 2017'

Did we make THE FINAL at ROCK CITY , NOTTINGHAM (Main Hall)????
Click the link below and listen to the podcast from 11am on Monday 10th April 2017, that is when we all find out.

Click Here for Podcast

Once again a massive thanks for your support on voting for us in 'The Future Sound Of Nottingham 2017' to give us the opportunity to play at ' ROCK CITY ' Nottingham in the main hall!! The same stage that has held epic concerts by Rock & Pop royalty over the years…..the likes of 'Ed Sheeran, Guns'n Roses (The original line up on the Appetite For Destruction tour!!), David Bowie, U2, Oasis, Nirvana, Iron Maiden, Green Day, The Goo Goo Dolls, Foo Fighters, The Red Hot Chilli Peppers, Blur and 1000's more and we ain't talking tribute acts here, we're talking the real deal!!!
Rock City is still Nottingham's premier music venue and still continues to host huge concerts today with the likes of Busted, Rag N Bone Man, Stormzy, Sam Smith, The Kooks, the list goes on and on and on. So to tread the same boards as some of the legends that have performed there would be amazing.
But have we done enough, did we get enough votes?? It was looking great 24 hours before voting finished and Brotherhood were over 600 votes ahead of 2nd place (you only need to finish in the top 4 to secure a place in the Final at Rock City). The voting then went blind for the last 24 hours, so nobody knows the final results yet, not even us.
So, when will we find out you all keep asking and we can now reveal this is how to find out who has made the final.
New Music Podcasts, The Results of who has made the final and who will be performing at Rock City, Nottingham are announced exclusively from 11am Monday 10th April 2017 by listening to the podcast at the link below....
We will of course announce here eventually, but we won't be announcing the results on our website or social media pages until a few days after, so please have a listen to the podcast!!

Click Here for Podcast



NEWS UPDATE – WEDS 29TH MARCH 2017.

HELP US GET TO ROCK CITY 'S MAIN STAGE IN THE FUTURE SOUND OF NOTTINGHAM FINAL

Hey Guys.... Its that time again when we need YOUR help.

We have been entered into a poll for Nottingham based acts that write their own material. Our song 'Winner' from our Album 'Occupational Hazard' has been submitted to a judging panel involved in the music industry.
Out of 67 submitted entries we have had it confirmed that we came joint 1st in the judges scoring putting us through to the Semi-Finals which is a massive surprise to us.
This is now where you guys come in........
Out of 14 other entries that have gone through to the Semi-Finals it is now down to a public vote, the winner of which has the opportunity to secure a slot on the Main Stage at this years Splendour Festival supporting 'Kaiser Chiefs & Busted' which of course would be a massive thing for us.
So once again we are asking you ALL to get your families/ friends/ cousins/grandmas/pets and yourselves to vote Brotherhood, also share the hell out of this post.
CLICK on the link below, hit Brotherhood, then scroll down and include your Name and Email as votes will only be counted that can be verified as human votes, you will receive a confirmation email asking you to confirm your vote. We'll keep posting updates here and the voting ends 1 week today (Weds 5th April at 11.59pm)
We can't do this without you guys, much love and thank you in advance....Ant & Matt xx

Click Here to Vote

After you vote here you will be emailed a link to confirm your vote. You must follow that link or your vote will NOT be counted (it may take up to an hour for that email to come through, so please be patient). This process stops spamming, and helps maintain the integrity of the vote.

Click Here to Vote
NEWS UPDATE – SATURDAY 25TH FEBRUARY 2017

After our mammoth 5 week holiday in Jan/Feb we are now back in the full swing of all things Brotherhood. We are back on the road and are going to be touring just as heavily for the whole of 2017 (with just a couple of weeks out at the start of July for our mid year holiday). Recording has already begun again for the second instalment of our Chosen Trilogy, and once again we have set a deadline that recording and mixing must be completed by late August early September to meet the release date that we have announced as Halloween. Yet again, we are gonna be up to the stones in it, so we better get back to it. See ya out there!